Exemplar Global Certified
ISO 45001:2018 Lead Auditor (Occupational Health & Safety Management System Training)
This course accelerate your understanding in effective occupational health and safety management according to International Standard that provide a framework to:
Prevent work-related injury and ill-health to workers;
Implement safe and healthy workplaces for workers, and other persons under its control;
Proactively improve OH&S performance;
The best practice methods to implement an effective management system based on ISO 45001 within your organization.
This course is intended to qualify ISO 45001:2018 auditors to lead an ISO 45001 audit team and conduct first, second and third-party audits against the standard requirements.
However, EFRCert's course syllabus is highly suitable for top management and OHS practitioner. Hence this course can be considered as the highest level qualification for OH&S management system.
Successful completion of this certified course satisfies the requirements to become a registered OH&S lead auditor and adds credibility through a formal qualification.
Why should you enrol to this course?
Because you will GET MORE
MORE international recognition – Exemplar Global, USA, Australia and IRQAO, UK
Exemplar Global previously known as RABQSA since 2014 to highlight the world-class, globally recognized value of our certifications. RABQSA offering quality certifications in the United States and Australia since 1989. RABQSA was created in 2004 from the merger of the personnel certification activities of the U.S Registrar Accreditation Board (RAB) with the Australia-based Quality Society of Australasia (QSA). While IRQAO, stands for `International Register of Quality Assessed Organizations` was established in 1997 to provide a reference to organizations that hold certification thus validating the quality of their processes, products or services.
MORE flexibility – You can have more than one month to complete the assignment and preparation for examination
Each of our module, will guide you to complete the assignment either by using EFRCert's template or your own templates. You can submit all the assignment for our assessor to evaluate your competency before the specific date for the examinations. Once you pass the assignment and examination, your certificate will be email to you within 1 working weeks from the date of examination.
MORE focus - Learn online (self-paced) – submit questions – join live Q&A session
EFRCert's online module have been designed for you to understand the subject step by step. You can go back to the module, if you need to refer back. If you have any question, we set specific date and time for you to join our tutor to answer the question. We recommend you to join this session to get real time answer for your question. However, if you are unable to join the live session, all the answer will be post in your comment area.
MORE templates and reference – We give away templates for most all requirements of ISO45001:2018
From the template of determining the organization context (internal and external issues), HIRADC, OHS other risk and opportunities until the SOP of MOC, EPR etc is provided based on clause by clause of ISO45001:2018. Hence, you will not lost, when you need to refer back to the requirements.
MORE career advancement – increase know how on best practice
You can become expert in ISO45001:2018 and you can have option to take the Exemplar Global Work Style Assessment and register with Exemplar Global (Fees apply). Hence, it will adds value and credibility through a formal qualification.
MORE accessibility – 1-year access on modules and templates
Even you have completed course, you still can access our platform to download the template and to watch back our lecture.
MORE knowledge – Share from our industry specialist
This course have been design, supervised and review by our own principal "Technologist Dr Edly Ramly" which have more than 20 years in research and preaching management system especially in occupational health and safety.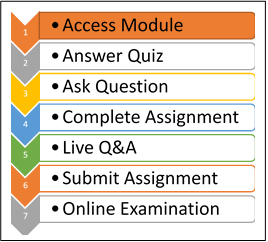 How to enrol and complete the course?
·    Register
·    Received payment option (1 week before the course start) including enrolment term and condition
·    Automatically enrol to the course on the course start date, or once the payment received or whichever later
·    Recommend to purchase a copy ISO45001:2018 prior to course start
·    Access to the first modules
·    Take the quizzes (if any)
·    Complete the assignment
·    Move to next module
·    Submit the assignment
·    Register for online examination
·    Received the examination notification and instruction
·    Take the examination
·    Receive the certificate
Course start on 1st Feb 2021 - Register your slot now for special discount.